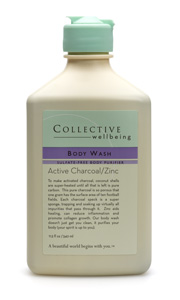 The lovely people at
Collective Wellbeing
sent me a bunch of their natural products to use and I have decided to do a review. I have used Collective Wellbeing products in the past so I already know how good they are.
I started using the Collective Wellbeing Charcoal Body Wash a few days ago and I must say I was beyond pleased yet again with this company's products! The body wash contains active charcoal which is known as a natural antidote and detoxifier. It also contains zinc which helps to gets rid of blemish-causing germs and reduce inflammation.
You may remember when I wrote about the mysterious hives I've been having for the past few weeks
here
. (By the way, I
STILL
don't know why I have been breaking out for the past month...such torture!) Well, I was beginning to break out again the night that I received my package so I decided to take a cool shower using this body wash in an attempts to soothe my itchy skin.
I was a little surprised by the
black
color of the body wash as I squeezed it onto my loofah but, I remembered that it contained charcoal. I was okay once I lathered up and it changed to a clear, white color. I also noticed the lemony scent it had since it also contains lemongrass, sage and juniper.
When I was done and rinsed off, the redness of my hives had subsided and my skin was left moisturized and soft with a light lemony smell. I also
love
the fact that this body wash is sulfate-free! I may have to put down by Oil of Olay Ribbons body wash for this one.
If you are looking for an all natural body wash that will help to get rid of toxins and impurities and also leave your skin soft, I highly recommend
Collective Wellbeing's
Charcoal Body Wash. You won't be disappointed!